Lead generation for manufacturers is important, but it's hardly a standalone concern. Your marketing — as well as much of the rest of your business — must also be concerned with what happens with those leads once you've made initial contact. Lead nurturing, which is just as important, should not be ignored, though it often is. At Cain & Company, we recognize the importance of nurturing leads and help our clients close more business by better understanding and improving their processes. These five steps are an important foundation.
Develop a Lead Nurturing Plan
Any new endeavor or reset of your existing marketing efforts begins here. When your marketing goes through several iterations or cycles through a number of different stakeholders, it's easy to lose the plot. That's why we help our clients in various industries develop a marketing plan that is intentional, communicating a clear and consistent message.
Personalize Your Approach
A significant part of knowing your lead nurturing goals is also knowing your target market. How do your goals align with theirs? Armed with this understanding, you can personalize your marketing beyond putting the prospect's name in the salutation. Marketing sequences do more than sell; they exist to educate, build credibility, and form trust between you and a prospect. With the ability to segment your audience and target accordingly, you can even tailor your content with surgical precision. Just as importantly, resist the temptation to rush the process. An interested lead will inquire directly, but some prospective customers require a longer warming-up period that's often spaced out over a few weeks, months, or, in some cases, even years.
Use the Best Tools Available
While there are times when there's simply no substitute for a customized email written for an audience of one, that method simply isn't practical when you're reaching out to an email list or large social media following. It's even less practical when your marketing goes beyond the mailing list to encompass other media.
A marketing automation (also called a customer relationship manager or CRM) platform allows businesses to develop relationships with their contacts by automating tasks and allowing for easier information management. Another significant part of a lead nurture campaign is strategic lead scoring, a process that tells your CRM what happens next in the cycle for each particular lead. Leads with predetermined high scores are often promptly routed to the sales team or distributor. This is especially helpful for large companies that get hundreds or even thousands of leads.
But a CRM does much more than nurture leads. Most platforms offer several other services to help simplify different aspects of marketing, but many companies that have a CRM don't really use all the bells and whistles. That's why choosing the right CRM for your business is key for proper performance of any lead nurture program in today's global marketplace. And there's a lot to choose from, so it's important to find what works best for you and your budget. Just because a platform comes with a higher price doesn't necessarily mean it will work best for your business. If the services aren't being used, it might be worth looking into ways to better use them or even considering a less expensive platform that would allow you to allocate more of your budget elsewhere.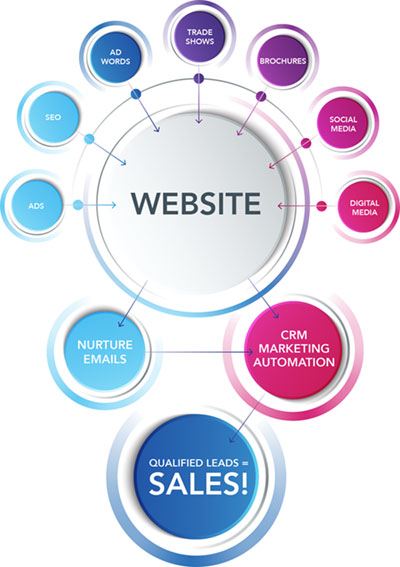 Smart use of marketing automation is a time-saving best practice that can harmonize your work across channels. At Cain & Company, we use a marketing automation system to help us manage our leads. We're certified HubSpot users, and we're familiar with several other platforms, both large and small. We can help you put your CRM to work.
Be Creative in Your Customer Outreach
Rather than trying to be everywhere, it's important to be where your customers are. Some channels simply won't deliver the results you're looking for and aren't worth your time and attention. But if you've planned your lead nurturing properly, you'll know where your prospects congregate and the kind of information they want most from you. That will enable you to tailor your outreach to better engage your audience.
Analyze, Optimize, and Improve
While we've put this step last, in reality it applies to every part of your sales process. No area of your sales funnel should go unexamined, nor should it be exempted from optimization. The tools we use to assist you are always evolving and improving, opening up new areas of opportunity for your business. Your approach to marketing can and must evolve with them. While marketing automation simplifies our day-to-day workflow, we cannot simply "set it and forget it." A business that is data-driven and that responds to that data will see more leads converted to sales along with more opportunities to cross-sell, up-sell, and retain existing customers.
If you're stuck on any of these steps or find yourself intimidated by the mere thought of getting started with lead nurturing marketing, get in touch with Cain & Company. We'll help your manufacturing business generate and nurture leads with intention.