In our technology-driven world, building an online presence is crucial no matter how big your company is. Since most people search for companies on the Internet, simply having a website allows potentially millions of people to find your brand online.
But what's even more important than just having a website is having a website that both educates your audience and keeps them interested enough to contact your company or make a purchase.
A crucial part of an effective marketing strategy is enabling your audience to find the information they need on your site. Whether you're creating a website from scratch or redesigning your site using templates, website development tools can help you balance the costs and benefits of creating an appealing, informative website.
If your website is poorly designed, difficult to navigate, or lacking the right information for your intended audience, it could leave a negative impression of your business. You might even find that having a bad website could give the impression you don't value your customers enough to provide a professional, easy-to-follow presentation.
Being able to easily change and update your website can help ensure your business is putting its best foot forward. A content management system (CMS) provides an administrative dashboard where you can add new pages, update existing pages, and perform several other website maintenance tasks. The degree of customization and ease of use of your CMS varies from free do-it-yourself options to enterprise-level software. Therefore, choosing the right website development tool for your business is essential and will depend on your company's needs and level of experience.
Here are three levels of CMS tools available for website development:
Level 1: Personal or Startup
This level of website development tools is ideal for beginners or startups with limited resources and expertise in web development. These tools tend to offer resources at lower prices or even for free. They can help you with the basics: creating a website that looks good and showcases your company. These tools are generally easy to understand, and the setup process is a breeze, sometimes even taking as little as an hour to build your website. Although these sites may offer fewer opportunities for customization, they still give you great features for your website.
Some popular tools from this level include:
Squarespace
GoDaddy Website Builder
Wix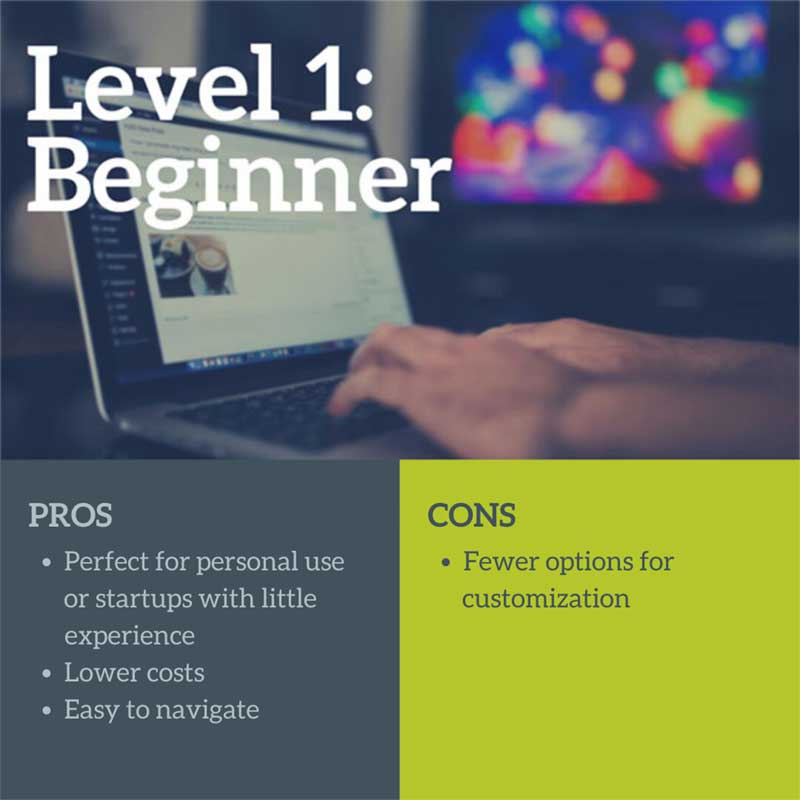 Level 2: Business
The intermediate, "pro-sumer" level CMS is appropriate for smaller companies with more people who have some experience with programming and web design. These programs will help you get started with your website, offering templates and other tools to give you more opportunities for in-depth customization.
Some popular tools from this level include:
Wordpress (prebuilt themes)
Joomla!
Drupal
Other CMS sites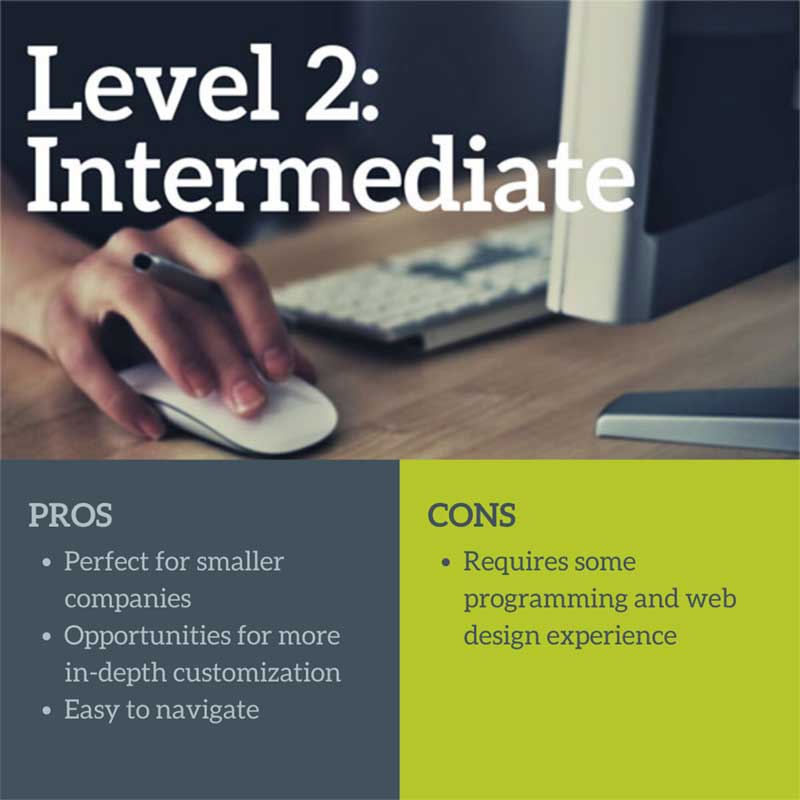 Level 3: Enterprise
The enterprise level of website development tools is appropriate for companies with more experience with web design and programming, or companies that that will hire a professional website developer or marketing agency to create their website. Though these programs are frequently more expensive, they give your team complete control over the website design process and typically include a broader suite of business tools, like eCommerce, marketing automation, or integrated tools for sales and customer service.
But with more control comes more responsibility. These tools require a higher level of technical expertise, so you might benefit from working with a developer to ensure that your website looks and feels how you want. These website development tools offer more stability, security, and additional features that allow for customization. They often connect with other platforms, like social media, search engine optimization tools, and customer relationship management systems. They also have lead tracking and website analytics tools for measuring the success of your website content.
Some popular tools from this level include:
Wordpress (framework or custom-built theme)
Custom-built programmed sites using HTML, PHP, aspx, coldfusion, etc.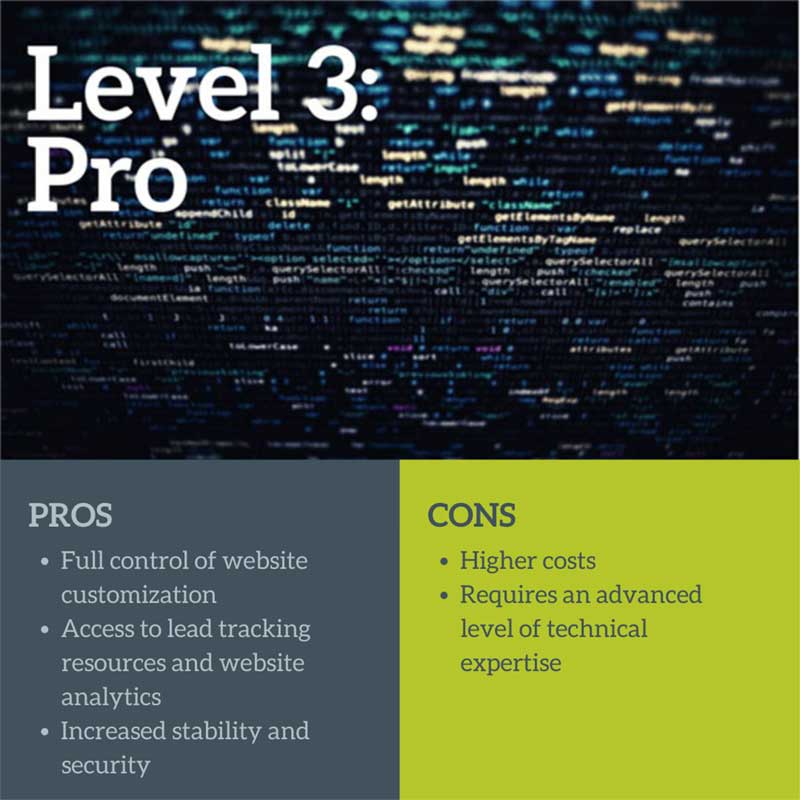 While any of these website design tools will help you create a beautiful website for your business, it's important to choose tools from the right level so you can build one that's appropriate for your company's size, budget, and level of expertise. If you're pressed for time like many of us, consider outsourcing the design of your website to a professional. Cain & Company will work with you to set up, design, or redesign your website.