Many of us have heard the term "employee advocacy," but few of us know what it entails or how to put it into practice. Sprout Social defines employee advocacy as "the promotion of an organization by its staff members." An employee advocate can also be further defined as someone who generates positive exposure and raises awareness for a brand through digital media or offline channels or recommends a company's products or services to a friend or family member.
The infographic below shows employee advocacy in its simplest form. Your business shares content, which in turn is shared by your employees and partners. It is social media at its core. We all know that any post doesn't go viral without sharing.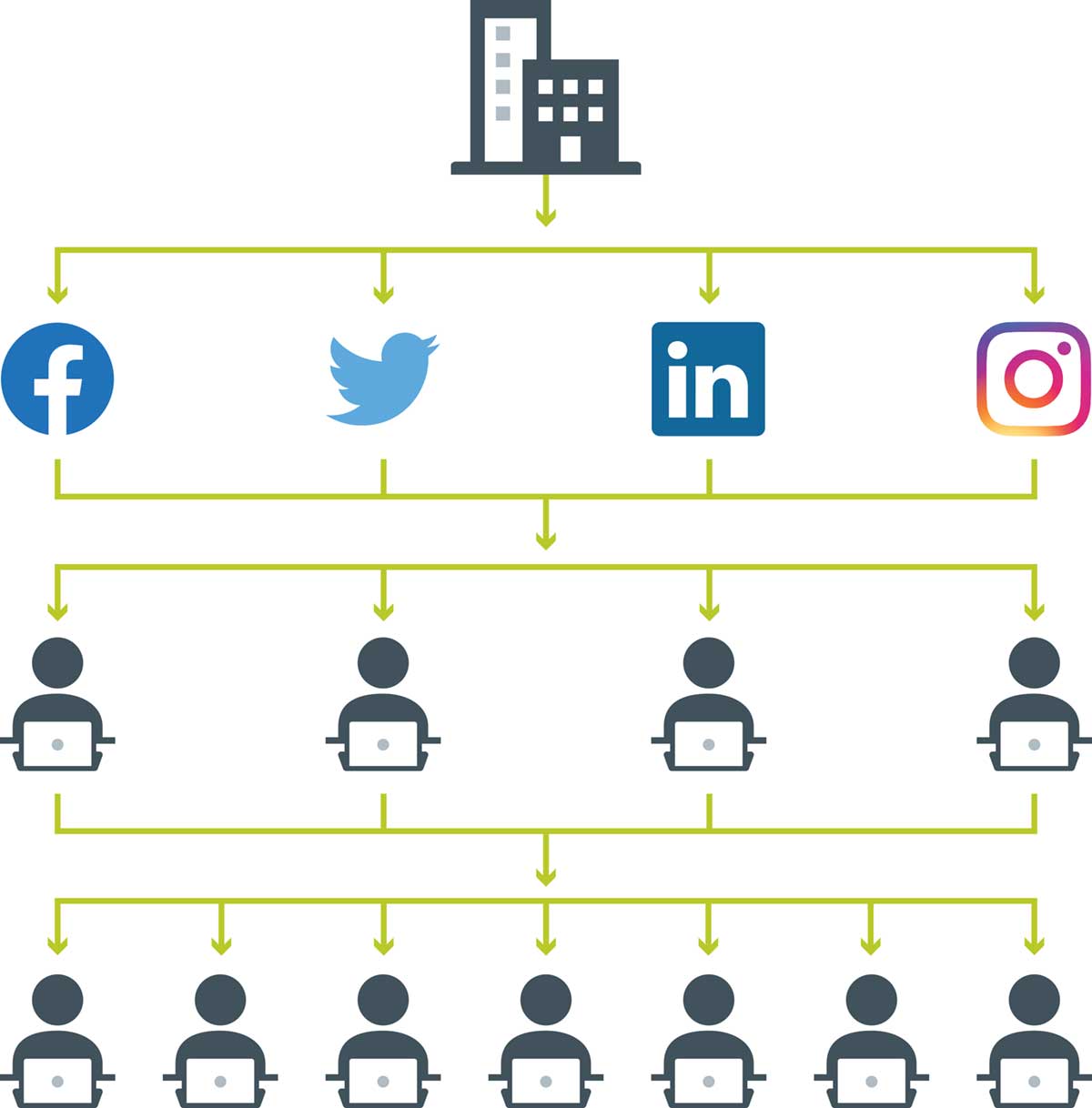 An employee advocacy program, then, involves using your company's base of employees, representatives, and distributors to share your social media content across platforms, amplifying the audience and increasing exposure of your posts. But that's just the beginning. Let's take a look at some facts.
Sociabble writes "employees receive 8x more engagement than content shared by brand channels." For large companies, purchasing a tool like GaggleAMP is worth the investment. It increases online engagement by giving your partners the ability to share content easily from one platform, increases social selling, and boosts internal communication, participation, engagement, and brand affinity. Neal Schaaffer's 10 Stats That Prove the Importance of Employee Advocacy shares some impressive statistics. For instance, "Employee advocacy statistics suggest that a program can result in a 5x increase in web traffic and 25% more leads (Source: Inc.)."
At the same time, a study published in November 2020 has shown that when organizations acquire customers through employee endorsements, both the contribution margins and retention rates are higher. The study also looked at the aspect of employee advocacy to include defending a brand, not just sharing or promotion. Advocacy was found to positively impact an organization in other ways, including talent acquisition, employee retention, engagement, and productivity.
This is not a comprehensive list of benefits or reasons for developing an employee advocacy program, but it should be enough to pique your interest. If you would like to move forward, an easy way to get started is on LinkedIn. This platform makes it easy to get your team involved by notifying them of recent company posts so that they can share them. Below is the process for posting an update on your page.
Select the Notify employees* button in the upper right corner of the updates.
*Note: You can't notify employees if your:
Company has 0 or 1 associated employees.
Update is targeted.
Employees have already been notified about the post.
You can find more details about the LinkedIn process here: https://www.linkedin.com/help/linkedin/answer/106886/use-employee-notifications-on-linkedin-pages?lang=en.
Not every social channel makes it this easy, but there are social media management platforms that can help. One such platform, HooteSuite, even includes an "amplification calculator." Simply enter the number of employees and followers on each social platform to show your current social reach and your potential social reach with employee amplification. Check out the calculator and their 6-step guide for creating an employee advocacy program.
Employee advocacy can be as simple or elaborate as you choose. You can develop SMART goals such as KPIs, a comprehensive program that includes internal incentives and rewards for sharing brand content, or simply ask for participation. Whatever program you choose, it's best to develop the trust of your employees and foster a culture that makes them proud to share and be a part of your organization. Other useful tactics to encourage participation in an advocacy program include: creating your own company hashtag for posts, giving away company swag to participants, hosting competitions (for shares and engagement), or giving away the much appreciated gift card to standouts. These small gestures go a long way to perpetuate ownership in the program with employees and reps who become brand advocates.
What does this all mean to your business? If you're a marketer or owner of a company looking for ways to increase your online influence and presence and your number of high-quality leads, employee advocacy is worth looking into. Even if you have only a few employees, this is a program that can help you put your greatest asset to work for you – your team!